Madden has taken gameplay to the next level by adding Dynamic Gameday.
For the first time ever, you can experience Dynamic Gameday – a new feature that will impact gameplay across every mode in this year's game, making the thrills and unpredictability of the NFL come to life.
Next Gen Stats: Star-Driven AI and Gameday Atmosphere (which we'll dive into below) make up Dynamic Gameday.  Combining the power of next-gen technology, real world player data, and enhanced AI helps deliver the most emotionally driven and interactive gameplay yet. 
All 32 teams come equipped with M-Factors A Unique homefield attribute that activates when home team gains momentum. Check out the List of all M-Factors on the image below.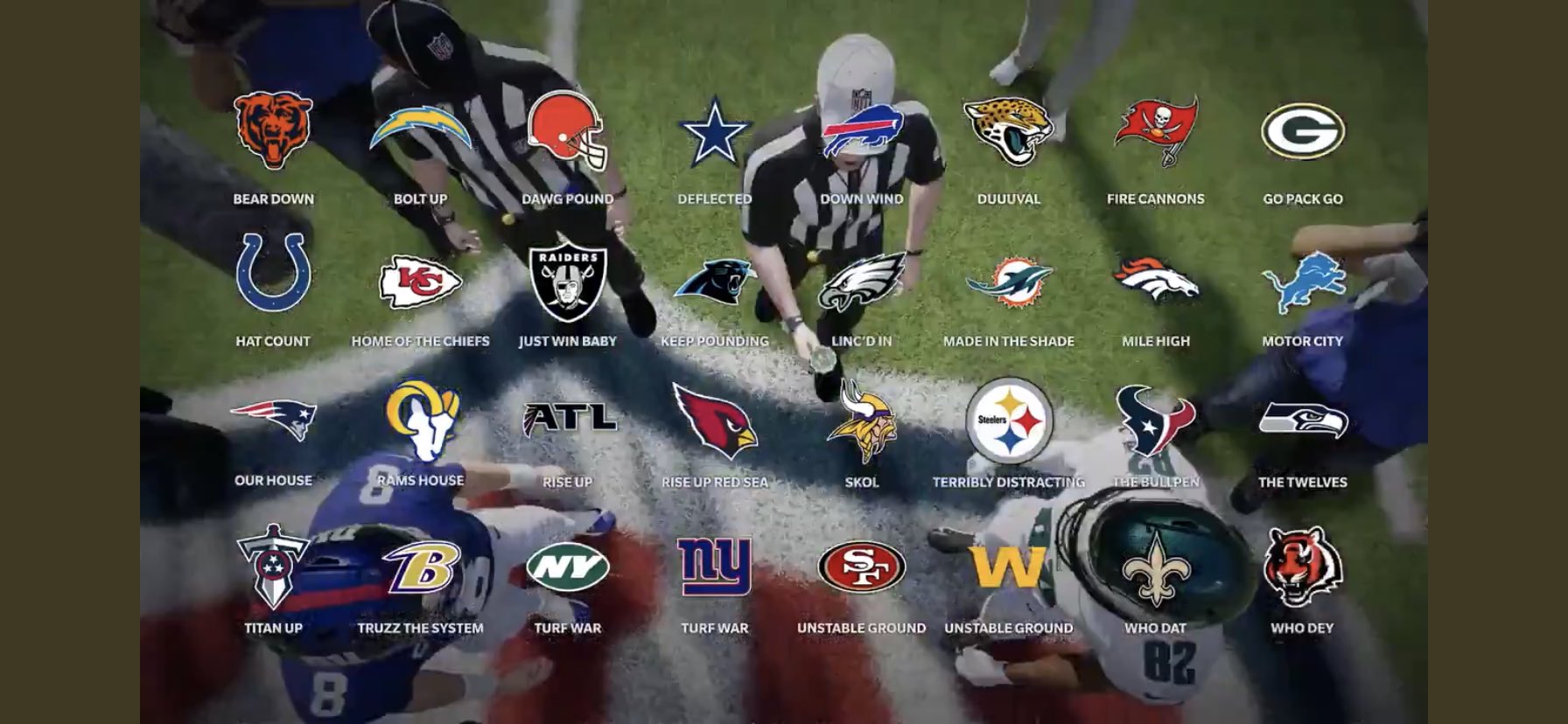 Arizona Cardinals  – Rise Up Red C (Cardinals gain momentum quicker)
Atlanta Falcons  – Rise Up (Home team gains bonus momentum on offense)
Baltimore Ravens – Truzz the System (While winning, home team gets bonus momentum on running plays)
Buffalo Bills – Downwind (Away team kick meter moves erratically)
Carolina Panthers – Keep Pounding (Home team has more stamina during plays)
Chicago Bears – Bear Down (Away team's kick meter moves faster on the downswing)
Cincinnati Bengals – Who Dey? (No huddle results in reduced clock runoff)
Cleveland Browns – Dog Pound (Hot routes in the red zone have a chance to fail)
Dallas Cowboys – Deflected (Away team's punt distance is shortened if kicking across 50-yard line)
Denver Broncos – Mile High (Away team has less stamina for plays)
Detroit Lions – Motor City (Home team accelerates slightly quicker)
Green Bay Packers – Go Pack Go (Momentum gains are increased for home team)
Houston Texans – The Bullpen (Away team gains less momentum for touchdown)
Indianapolis Colts – Hat Count (Home team defense sees hat count via Coach Cam)
Jacksonville Jaguars – Duvall (Bonus momentum on touchdowns)
Kansas City Chiefs – Home of the Chiefs (Away team's audibles have a chance of failing)
Las Vegas Raiders – Just Win Baby (When winning, home team has increased momentum gain/fatigue recovery)
Los Angeles Chargers – Bolt Up (Chargers gain bonus momentum for yardage gains)
Los Angeles Rams – Rams House (Home team has bonus momentum on defensive stops)
Miami Dolphins – Home team fatigue is slower
Minnesota Vikings – Skull (Home team is slightly faster in the red zone)
New England Patriots – Our House (Home team gains bonus momentum on touchdowns/3rd down stops)
New Orleans Saints – Who Dat (Away team receivers can mistakenly get incorrect routes on 3rd & 4th downs)
New York Giants – Turf War (Away team fatigues quicker)
New York Jets – Turf War (Away team fatigues quicker)
Philadelphia Eagles – Linked In (Momentum gains increased for Home team, decreased for away)
Pittsburgh Steelers – Terribly Distracting (Away team's hot routes have a chance of faion 3rd & 4th downs)
San Francisco 49ers – Unstable Ground (Away team has an increasingly hard time changing directions)
Seattle Seahawks – The 12s (Away team has distorted play on 3rd & 4th downs)
Tampa Bay Buccaneers – Fire the Cannon (Home team recovers fatigue upon entering red zone)
Tennessee Titans – Titan Up (Home team has improved blocking, avoids holding penalties)
Washington Football Team – Unstable Ground (Away team has an increasingly hard time changing directions)